Our Philosophy

From ancient times, a small fruit called ume has been deeply loved by the Japanese people.
At CHOYA, we see a tremendous potential in that regard.
Our mission is to grow fine quality ume by developing optimal soil,
discover the amazing power of ume and share them with the world.
We believe there is so much more that ume can do.
That is why we will continue to explore every possibility that this fruit can offer.
We will take on the challenge of creating new products that can only be made by CHOYA.
Our Mission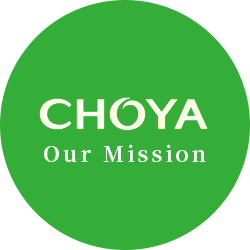 Ume Culture Succession

Ume has been consumed for its health benefits
since ancient times in Japan. It is our job to pass
on the Japanese ume culture to future generation.

Hand in hand with ume growers

In collaboration with ume farmers, CHOYA
has been researching and developing both ume
and optimal soil in the pursuit of better ume.

Innovation

Committed to bringing innovative and outstanding
products to our customers, we will continue seeking new
possibilities that ume can offer (new tastes and usage).

Globalization

Through our products, CHOYA will convey
the beauty of Japanese ume to the world.
Our promise to customers
At CHOYA,
we always make sure our
products are safe and delicious,
so that everyone can enjoy
the incredible "power of ume".
We believe it will support an enjoyable
and healthy lifestyle of our customers.
Environmental Activities
We are working on environmental issues to become a company that contributes to people's health from the inside and outside.
Social environment philosophy
Through Umeshu production, CHOYA contributes to the health of our customers. We will also contribute to a sustainable society through business activities that give consideration to the global environment.
Factory Environmental Policy
As a factory operator, we position environmental conservation efforts as one of the important issues and strive for continuous improvement to prevent environmental pollution.
At the same time, while complying with the environment-related laws and regulations, we will do our best to proceed our own environmental conservation activities.