The Process
In order to deliver the Power of Ume through safe yet delicious products to our customers,
CHOYA follows a careful production process.
CONCEPT
By carefully macerating large amounts of high quality ume fruit through our unique ageing process, the rich flavours along with natural organic acids are fully drawn out.
Quality
【 Highly selected ume fruit 】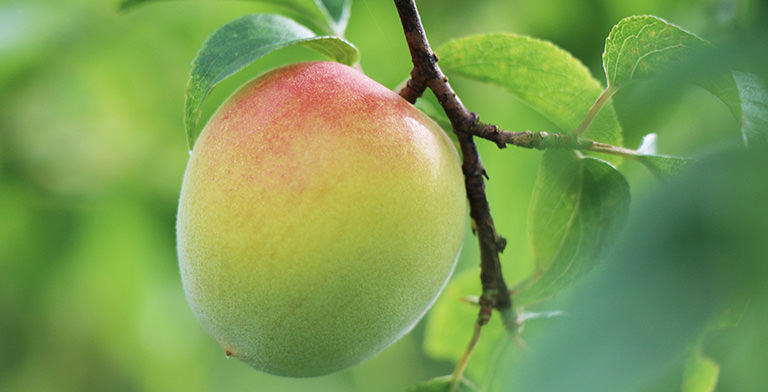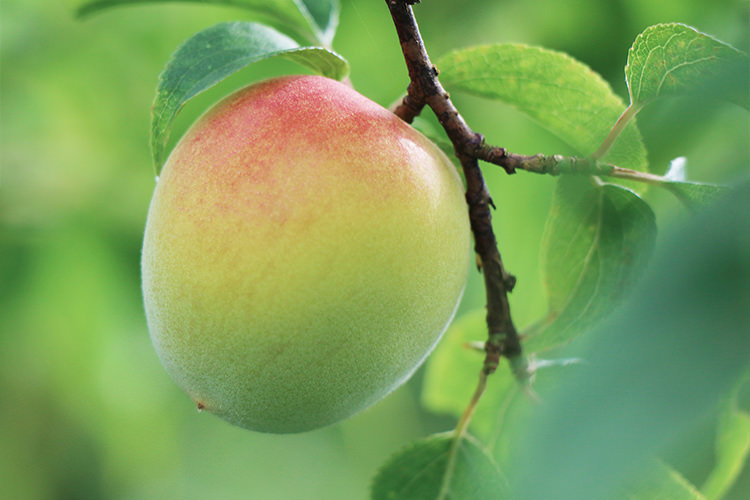 At CHOYA, we use only Japan-grown ume fruit. In addition, we work closely with local ume farmers to research and develop both ume and optimal soil on which it grows. Thanks to this dedication we consistently get richly aromatic and highly ripened ume fruit. Ume can be classified by its quality; most CHOYA's ume are graded as the highest quality fruit.
Quantity
【 Rich in natural ume fruit 】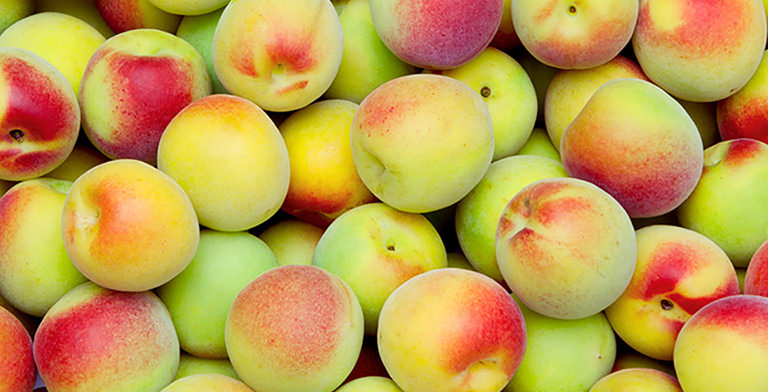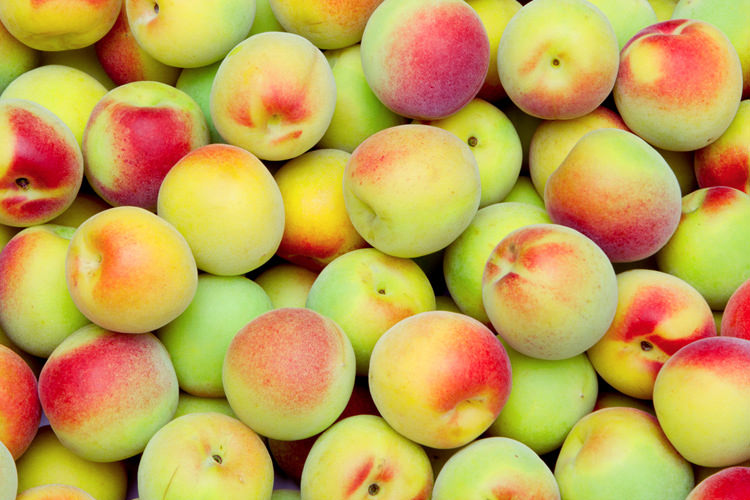 Our commitment to develop optimal soil results in an abundant harvest of high quality ume that are ideally suited for CHOYA's Umeshu making. However, not only we use large amount of fruit but apply our unique production method to fully extract ume components that allows for consistently delicious Umeshu. A testament to that is the "Average Amount of Ume Used" that we confidently indicate on our product labels.
Ageing
【 Still ageing process 】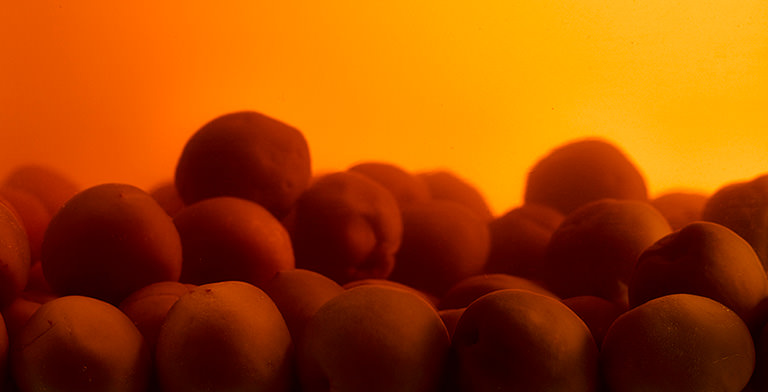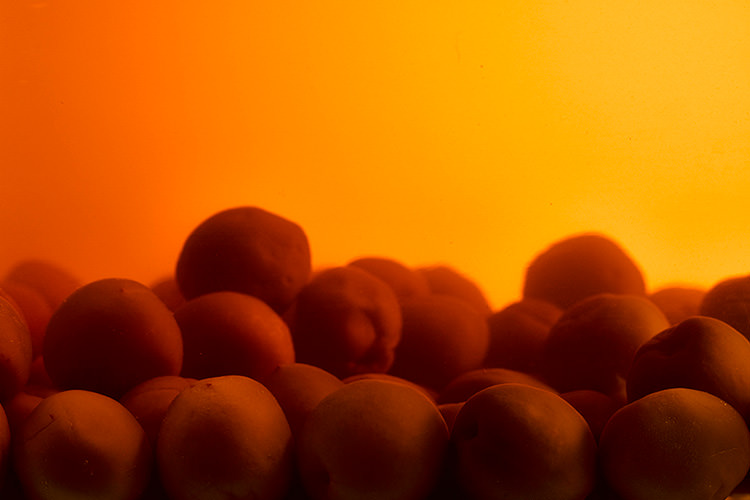 Since only simple ingredients are used, the environment in which Umeshu is aged is very important in the pursuit of ideal quality. We have specially designed Umeshu storage tanks in order to protect against external influences such as light, temperature, and air, which in turn allows us to age the liqueur carefully and deliberately for more than one year to fully extract all ume components. We call this process "Still Ageing" (Independent Ageing).
No artificial ingredients
【 Authentic Umeshu 】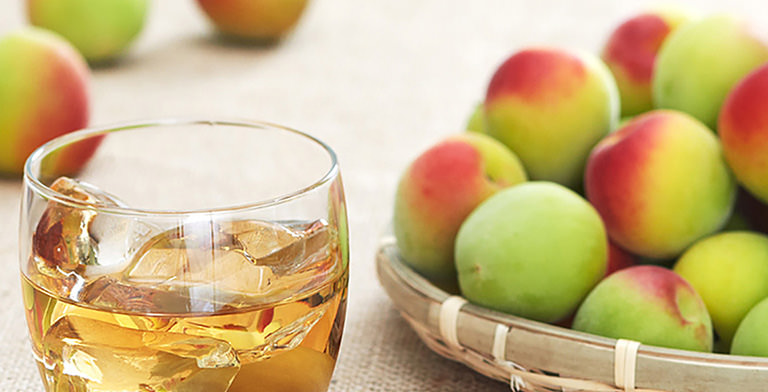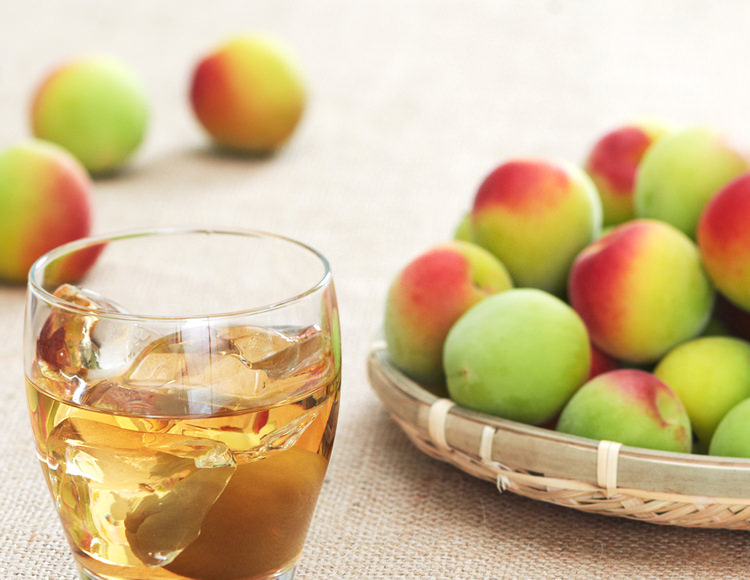 At CHOYA, we don't use artificial additives such as acidulants, colourings, and flavourings. Japan Spirits & Liqueurs Makers Association established a new standard for Umeshu by allowing only those products made without artificial additives to be called "Honkaku Umeshu" or "Authentic Umeshu". As the leading producer, CHOYA is committed to delivering only high quality and authentic Umeshu.
The ume cannot be fully enjoyed as it is.CHOYA has been researching and developing ways to extract all benefits of the natural fruit.Those natural powers of ume can only be found in high quality fruit that were grown in optimal soil conditions.
CHOYA slowly extracts beautiful aroma and delicious tang from real ume by carefully steeping the whole fruit with the seed still inside.
CHOYA Quality Standard
When you enjoy CHOYA's Umeshu, make sure to look at the back label where you will find information about "Quality Standard". This "Quality Standard" indicates that we only use Japanese Ume fruit, without artificial additives such as acidulants, flavourings, or colourings. The average amount of Ume used per bottle is also shown. When choosing delicious Umeshu, please use these indications for your quality reference.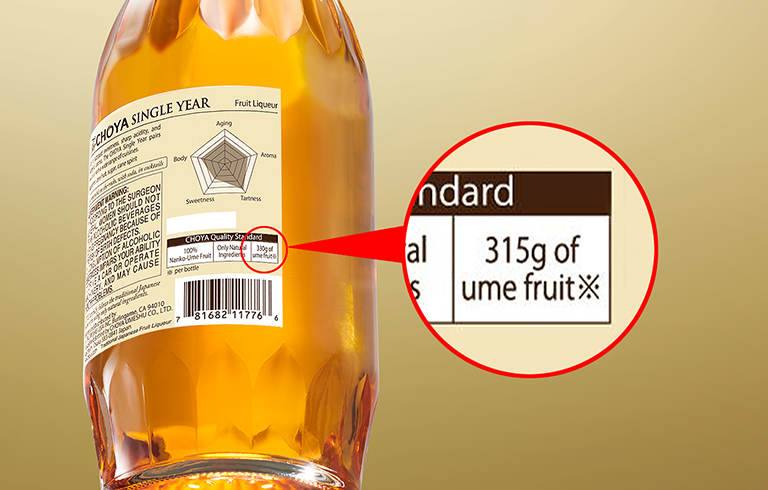 You can check the average amount of Ume fruit used per bottle on each product.
From Tree to Table
The beginning of summer brings the rainy season, which leads ume fruits to grow and ripe. This is the time when the ume starts its time-consuming, yet important journey to becoming a delicious CHOYA Umeshu.
Harvesting

CHOYA uses only Japan-grown ume fruit. Moreover, we mostly use the premium Nanko species from the Kishu region in Wakayama. This ume is large in size, with thick flesh and high in organic acids. Carefully picking each fruit at its peak right before it falls from the tree allows us to choose only the best suitable ume for Umeshu making.

Steeping

Freshly picked ume fruit are brought to the factory where they are washed and later steeped in a dedicated aging tank, with a capacity up to 100kL, together with alcohol and sugar. We follow a simple yet sophisticated method - a traditional way of making Umeshu without adding unnecessary things or procedures. In total, we have about 450 ageing tanks that are separated by the type of ume, its region and its maturity.

Ageing

Our Umeshu storage tanks are specially designed in order to protect against external influences such as light, temperature, and air. This allows us to age the ume liqueur carefully and deliberately for about a year fully extracting ume components through a process we call "Still Ageing" (Independent Ageing).

Blending

Our master blenders analyze various qualities of each Umeshu batch including the taste and aroma. Only those blends that pass rigorous testing are used for making CHOYA products. Not containing any artificial additives, each batch of pure Umeshu has different characteristics. Through pioneering blending techniques that were developed over a hundred years, we are able to deliver consistently high quality and delicious Umeshu.

Bottling

Only Umeshu that meets strict CHOYA standards is bottled, inspected, and packaged. For ume containing products, every single fruit is checked by skilled hands, then washed and placed inside bottles. Before packaging, we take great care by visually inspecting final products for any abnormalities.

Shipping

Packed CHOYA products are then shipped all over Japan as well as all over the world to more than 60 countries. Umeshu is a part of Japanese culture and one of CHOYA's missions is to inherit it. We hope to deliver our continuously innovated fine Umeshu to people around the globe.
Iga Ueno Factory Profile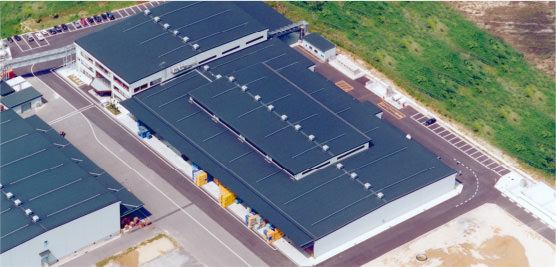 ○ Area : 68,498,05㎡
○ Line Production Area : approx. 9,500㎡
○ Aging tanks
Height : 8m / Diameter : 4m
Volume : 100kl (about 55,555 bottles of 1.8L)
Total : 120tanks
(Osaka & Kishu Factories have 326 tanks of 50kL each)
○ Production Capacity : 1日約60,000bottles per day (720ml bottle count)