CHOYA Curry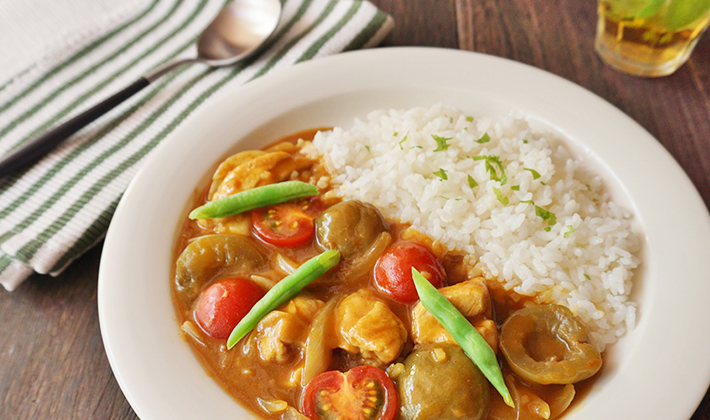 Ingredients
(2 servings)
[A] Ume fruit (remove the seed)…3 pcs
[A] Green beans…6 pcs (pods)
[A] Petite (cherry) tomatoes…6 pcs
Chicken breast …1/2 pc
Onions…1/4 pc
[B] Garlic (chopped) …1 tsp
[B] Ginger (chopped) …1 tsp
The CHOYA Golden Ume Fruit …3 tbsp
Water …3 cups
Curry Mix/Roux (any) …50g
Salad (vegetable) oil …2 tsp
Soy sauce…1 tsp
Cooked Rice…suitable amount
The sweetness and richness of the Umeshu gives the curry a mild and deep taste.
Cooking recipes
STEP.1

Cut the ume into two equal parts, the green beans into three equal parts, the petite (cherry) tomatoes into two equal parts, the chicken into bite-sized pieces, and the onions into wedges.

STEP.2

Heat the vegetable oil in a pan and bake the chicken from the skin side, first. When it is golden, turn it over and add the onions including the ingredients from [B] and fry stirring frequently. Then add The CHOYA Golden Ume Fruit.

STEP.3

Add water and simmer for 5 minutes, turn off the heat and dissolve the curry mix (roux).

STEP.4

Add [A] and heat again, simmer for 5 minutes. At last, season with the soy sauce.

STEP.5

Place warm cooked rice into a bowl and serve (4) on top.
Finely chop aromatic vegetables such as celery leaves or herbs and mix them with the rice to bring out the flavour even more.